Sydney Hobart Race
AUD 8,000.00 / Race per person

AUD 70,000.00 / Race entire yacht
Start Time:
26 December 2020
Finish Time:
30 December 2020
Availability
Availability: 8 places,

2 booked,

6 available
Sydney Hobart Yacht Race 2020
Eve is offering places for one of the world's most famous and challenging ocean yacht races, the 76th 2020 Rolex Sydney to Hobart Yacht Race. An unforgettable experience for any sailor that has done the race. The buzz of helicopters and global media at the start, the 600 mile passage down the coast through all weather conditions, the rounding of Tasman island and the last leg to the historic city of Hobart. 
Passing Tasman Island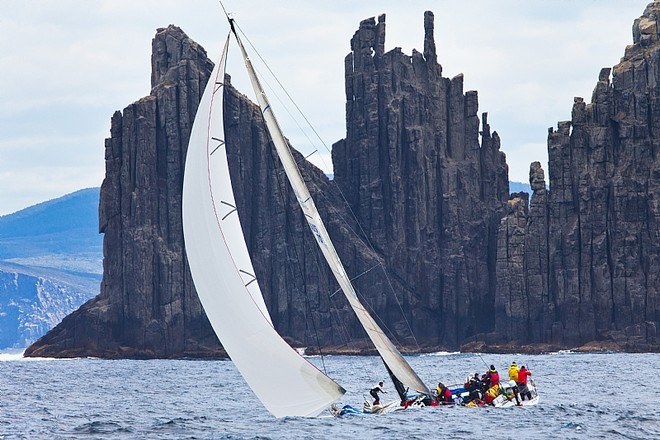 What's involved?
The Sydney to Hobart yacht race involves very serious sailing in frequently heavy weather and so requires a safe yacht and competent crew. Eve is an extraordinarily strong and safe yacht. Like all S&S Swan 65s, she was built to the highest standards for around-the-world racing and has already completed three circumnavigations. There is no stronger or safer boat in the Hobart fleet.
Eve will provide four very experienced professional crew and will take up to 10 extra crew on the race. However all crew must achieve a minimum amount of sail training including at least one offshore overnight passage prior to starting the race. This is not only a wise precaution but is also a mandatory entry requirement from the organising authority, the CYCA.
Eve will complete the mandatory qualifying race, the Bird Island Race. All crew must participate in that race. If you are an experienced sailor that would like to join us but cannot commit to the Bird Island island race then please contact us to discuss alternatives.
In addition to the formal training, any Hobart crew may join us harbour twilights whenever we have space. The more our crew are experienced with the yacht and with racing conditions, the safer the Hobart race will be for all.
All crew that do not already hold a valid AYF or ISAF safety and sea survival certificate must also attend a mandatory 2 day course run by one of our sea safety training partners.
Our IRC Rating
IRC is a handicapping system that is designed to give all yachts an equal chance of winning the race.  As an older yacht, "Eve" has a great handicap of only 1.1 - similar to much smaller boats.  Our 2020 IRC certificate
What will it cost?
The fee is AUD 8,000 per person. This includes all pre-race training, the cabbage tree island qualifying race and, of course, the Sydney to Hobart Yacht race itself. 50% is due when you book and will reserve your place. The remaining 50% is due before the cabbage tree island race on 10th Nov.