Duration:
day/week Charters and cruising
Start Time:
09 September 2023
Finish Time:
09 October 2023
CRUISING the BALEARIC ISLANDS 2023
Come and spend your holiday onboard Eve in the Balearic Islands of Mallorca. An absolutely fantastic sailing destination with plenty of sunshine and a constant sea breeze to make your sailing holiday around the islands just that little bit better. A brilliant way to spend a week. There's plenty of historic old fashioned towns, hidden like gems along the coastline and in one week you can sail the way round the islands, stopping off at your leisure.
In Mallorca, you'll find a some amazing little towns, built out of golden stone, overlooking an expanse of olive groves and scenic landscapes. This combined with dramatic cliff tops looming over secluded coves, make this area perfect for anchoring.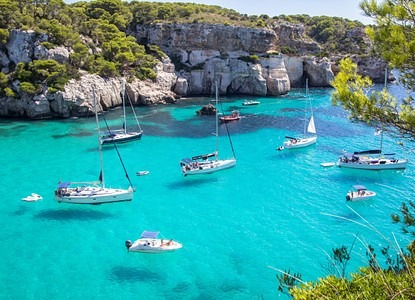 AIRPORTS and TRAVEL LOGISTICS
If you are worried about getting to and from the boat, don't be! Closer to date we will let you know exactly what marina we are berthed in and we are always a phone call away if you get lost.
There is an airport on the islands near our arrival and departure locations , so you might want to plan your air travel from our arrival and departure location in advance before setting sail. Depending on where you wish to start your holiday will determine which island you will fly from.
PALMA de MALLORCA Airport - Is an international airport located 8 km (5.0 mi) east of Palma, Mallorca, Spain.
MENORCA Airport - Is the airport serving the Balearic island of Menorca in the Mediterranean Sea, near the coast of Spain. The airport is located 4.5 km southwest of Mahón, after which it is sometimes informally also named.
Eve also has a fabulous tender which we will use to get to and from the boat when we arrive in places which are a little more remote.
HOW TO JOIN
In order to secure your spot on board Eve we will ask you for a 50% deposit, no matter what event your are partaking in, whether that be cruising, racing or participating in passages. We will then ask for the rest of your invoice to be paid off 3 weeks, at the latest, prior to your departure.
We recommend to plan between 7 to 8 days onboard which will give you the time to completely disconnect and enjoy living on this exceptional boat. About the boat . However we are also able to do smaller trips or even day charters, depending on what you prefer.
What's Included
Live Aboard Charters
Crew of two
Safety equipment ( PFD, harnesses, PLBs)
All meals Included
All boat costs included
B.Y.O
Toys : Wing Foil, 25hp tender, Snorkel/fins, inflatable SUPx2, hammocks
Beddings
3x double cabins
If you have any questions or queries don't hesitate to get in touch. Email us at info@swanningaround.com or you can call +61 407009603 or +61 431926706 and talk to our Eve Crew directly!